3:17 pm on Tuesday, July 17th, 2012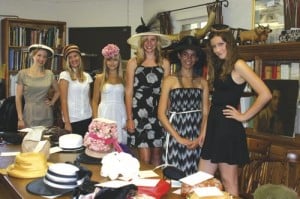 Looking for new ideas check out the "Hats on Parade" event showcasing many different hat styles through history. Make sure you keep warm this season with fashion fur hats.
Hats and gloves were the order of the day as the Santa Ynez Valley Historical Museum held its "Hats On Parade" Tea and Hat Fashion Show on Saturday, June 16.

The Tea ran in conjunction with the Museum's new hat exhibit in the Jeanette Lyons Room, presented by the Costume Council.

Kaye Spilker, curator of costumes and textiles at the Los Angeles County Museum of Art, gave an informative lecture on hats through history.

"A hat is the most noticeable fashion item you can wear, as the onlooker's attention is drawn to the face. The old saying goes, 'If you want to get ahead and get noticed, then get a hat,'" Spilker said at the opening of her lecture.

Spilker covered the etiquette and formality of hats, different styles of hats throughout the ages, how the times, both political and economic, changed the style, shape and size of hats, and how feathers became fashionable almost to the point of wiping out certain species.
Read the rest of this article by clicking here.
4:42 pm on Tuesday, July 3rd, 2012
Find Lindsay Lohan sporting a stylish fur hat as she morphs into Miss Taylor even more as she wears a signature fur hat and heavily penciled in eye brows.
With her heavily lined eyes, penciled-in brows and Schiaparelli-style fur hat, actress Lindsay Lohan looked the spitting image of screen icon Elizabeth Taylor as she took a cigarette break today.

The 25-year-old actress has certainly managed to recreate the high drama that followed Taylor's life with actor Richard Burton while filming the biopic Liz & Dick over the past couple of weeks.

Wearing a silk jacquard belted dress and gloves, the star seemed in good spirits as she laughed with crew members.
To read the rest of this article click here.
4:28 pm on Tuesday, June 19th, 2012
Check out this great article about a Duluth women who enjoys designing fur hats and sharing her knowledge with others.  Want to find fur hats at great prices? Click here!
DULUTH, Minn. – Emily Moe watches episodes of "Downton Abbey" twice: first for the storyline, then to pay closer attention to the PBS period drama's fashions – specifically the hats.

A maroon cloche worn by the character Lady Mary at the train station in Season 2 stands as one of her favorite hats to appear on screen. Moe is using it as inspiration for her own homemade version.

"I've pretty much always been obsessed with hats," Moe said.

Moe has been honing her hat-making craft for the past decade and selling her pieces online on Etsy and at regional fairs. Her hats were part of the costumes for the College of St. Scholastica's production of "Iph" and will be featured in an upcoming production of "Side Show." Moe also teaches classes in hat-making for DIYers.
To read the rest of this article click here.
11:38 pm on Friday, May 18th, 2012
Always been a fur lover check out what they're saying about the Montreal NAFFEM's Annual Fur Fashion Show. Find great fur prices online and find fur hats to go with your fur coat.
"You don't see extravagant furs every day, even on the streets of frigid Montreal, which is why NAFFEM's annual fur fashion show is such a revelation.

Of course, many are merely vanity coats, meant to be pretty and just a little warm like Oh! by Kopenhagen Fur's trim collarless mink. Hilary Radley, though, showed her signature cocoon shape in cosy mink for the North Pole label. Stylish, warm and just the ticket for a January day, in Montreal, Moscow and Chicago. And Zuki, among others now, continues to shear, dye and decorate beaver in the most extraordinary patterns. This time, we spotted a watermelon among the florals.

One of the most pleasing items on the catwalk was a black seal tunic, dotted with large raspberry coloured spots by NAFA's Northern Lights. What fun!

The 30th annual fur trade show, held this week at Place Bonaventure, featured more than 200 luxury labels from 87 exhibitors – from the U.S., Norway, Italy, Turkey and Denmark – who create fur, shearling, leather and all manner of hybrid outerwear."