'Hats on Parade' event was a milliner's delight
3:17 pm on Tuesday, July 17th, 2012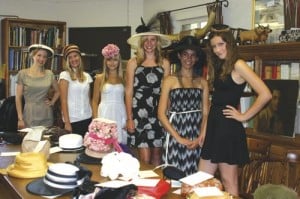 Looking for new ideas check out the "Hats on Parade" event showcasing many different hat styles through history. Make sure you keep warm this season with fashion fur hats.
Hats and gloves were the order of the day as the Santa Ynez Valley Historical Museum held its "Hats On Parade" Tea and Hat Fashion Show on Saturday, June 16.

The Tea ran in conjunction with the Museum's new hat exhibit in the Jeanette Lyons Room, presented by the Costume Council.

Kaye Spilker, curator of costumes and textiles at the Los Angeles County Museum of Art, gave an informative lecture on hats through history.

"A hat is the most noticeable fashion item you can wear, as the onlooker's attention is drawn to the face. The old saying goes, 'If you want to get ahead and get noticed, then get a hat,'" Spilker said at the opening of her lecture.

Spilker covered the etiquette and formality of hats, different styles of hats throughout the ages, how the times, both political and economic, changed the style, shape and size of hats, and how feathers became fashionable almost to the point of wiping out certain species.
Read the rest of this article by clicking here.